about Theo Crous
Theo Crous is a musician, producer and engineer. Theo's a member of rock group Springbok Nude Girls, as well as being a part of the alternative Afrikaans duo, Kobus! Theo have collaborated, performed,recorded, mixed and produced on many albums and played live with many international acts such as INXS, Hugh Masekela,Foo Fighters, Zolani Mahola, Karen Zoid, Chris Chameleon, Johnny Clegg, Chris Cornell and Connel Cruise.

The Springbok Nude Girls supported U2 on their recent 360° tour of South Africa. He's produced and engineered over 50 albums – singles from all these albums have reached the top ten on various national charts, 30 of which have been nominated in different categories for SAMA's( South African Music Awards), 8 of which have won SAMA's. 10 of these records have reached gold status, 4 records reached platinum status and 2 reached double platinum status. Theo has also worked extensively with Kevin Shirley(Iron Maiden, Joe Bonamassa, Led Zeppelin, Beth Hart) on various album productions, like the multi award winning album Jeckle and Hyde by Prime Circle featuring the hit singles "Breathing" and "Turning in my Sleep". Other collaborators include Paul Crowder (Sound City- editor) and Pete Woodroffe (Def Leppard - Producer,co-writer)Parlotones single, Honey, off the album, Journey through the shadows, reached nr 37 on the Billboard Heatseaker Charts in 2012.
Theo produced the latest Dan Patlansky album - Dear Silence Thieves that was voted the nr 1 Blues Album for 2014 in the US. Heres what the international press had to say:

"Trumpeted as this year's zero-to-hero, the Jo'burg thirty-something justifies the hype with his seventh album. Dear Silence Thieves is blues tinged, but not slavishly so, with funky opener Backbite stomping like Lenny Kravitz in stack heels, Fetch Your Spade channelling Rage Against The Machine, and Taking Changes coming on like the Pride and Joy on illegal steroids. – Classic Rock Magazine UK 8/10

"Stand by for a treat. Dan Patlansky can deliver a 'brick through the window' riff with the best of them." – Blues in Britain

"Hold On showcases Patlansky's top-drawer, SRV-meets-Moore soloing to stunning effect."
– Guitarist Magazine 4/5

Karen Zoid and Francois Van Coke's single - Toe vind ek jou, was the first ever Afrikaans single to debut on KFM and Highveld at nr 1 on the Top 40 on Sunday, 12 April, 2015.

Theo had the opportunity to study with Michael Brauer (Mix Engineer- Coldplay, John Mayer) in 2013, and Al Schmitt (Elvis Presley, Neil Young, Bob Dylan) in 2015.

Theo also works as a composer for the advertising and film industry for agencies such as Ogilvy, Zoom Advertising, Network BBDO, Saatchi and Saatchi, Draft FCB, JWT and Jupiter Drawing Room.

Some of Theo's compositions include:Co Production, recording and mixing and collaborate with Arno Carstens on a composition for the the movie The Last Face, directed by Sean Penn, starring Charlize Theron, Javier Bardiem and Jean Reno, due for release at Cannes Film Festival mid 2015.

Golf Gti commercial(Ogilvy- Cape Town), won a gold statue award at the London International Advertising Awards for "best music".

Johnny Walker " Haile Gebrselassie' commercial, won the Diageo Award for best commercial worldwide.Allan Gray - Legend commercial, that won the Loerie Grand Prix of 2011 as well as a Bronze Lion at Cannes 2011.Go to the commercials section at the top to view the latest show reel.

Theo has a love for vintage equipment and vintage guitars.Through his carreer has work extesively in various international studios like Avatar Studios - New York, Power Station - New England, Metopolis studios - UKT.

If you would like to get in touch with us regarding record production or commercial composition, please feel free to contact us.
---
featured artist
Karen Zoid



Karen Zoid has become an important part of the South African music scene. Since releasing her first solo album, Poles Apart (2002), Zoid has become such an important part of the home grown scene that her name is now the byword for emotionally charged, downright incendiary South African rock music. The press renamed her followers the 'Zoid Generation'.

What's more, through the last decade, Zoid has managed that unusual and frequently tricky feat of balancing popular appeal with critical praise; of securing an audience of both Afrikaans and English speakers; of retaining her individuality in a market known for its desire for sameness. And through it all, Zoid has held onto an enviable integrity that allows her to speak her mind in a way that only earns her more devotees and proved no barrier to being named Best Female Artist at the 2008 South African Music Awards.

Zoid's super-charged rock energy is an ability to write gorgeous, delicately rendered songs that speak of the emotional vortex that drives this exceptional artist to keep creating. 'Zoid Afrika', her latest album shows that Karen Zoid is South Africa's premier female rock artist, full stop. She has shared the staged with international acts like John Mayer, Annie Lennox, Metallica, Simple Plan , Hothouse Flowers, Seal and UB40.

Over a career that has last 10 years, Zoid has earned various accolades (including gold album sales) but she says that what continues to drive her is a deep-seated desire to create music that she can get up on stage and play live. "When I was in that all-girl punk band, or busking or when I am playing to a huge crowd , the feeling I get from delivering my music is still the same - and that's why I do this. All the stuff that goes around making an album - the promo, the interviews, making videos, the artwork … that's work. Playing live? That's what I love."
Dan Patlansky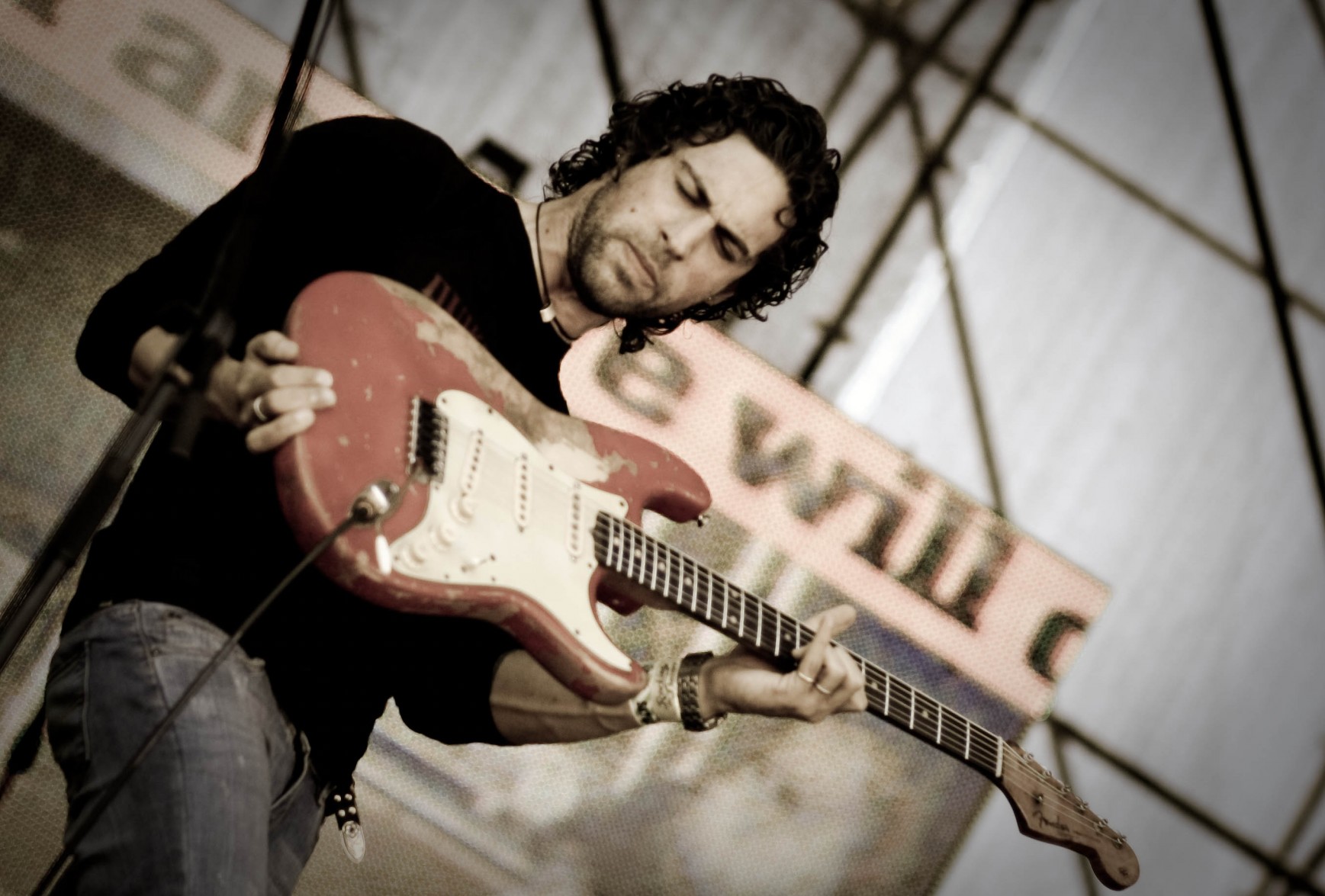 Never far from likeminded genius, guitarist, singer/songwriter and globally respected purveyor of the blues, Dan Patlansky sidles into his second successive decade as one of the world's finest blues-based storytellers of his generation.
Dan started 2014 off with a bang when he was chosen to open for BRUCE SPRINGSTEEN in front of 64 000 people at the FNB Stadium in Johannesburg in February on his High Hopes tour. Dan was personally approved by Springsteen as support act, seeing as Springsteen rarely has guest artists for his shows. Also a milestone for Dan's career when he played in front of the biggest audience he has ever played to.
After touring Europe in 2013 with Everlast, Dan returned to the continent in October 2014 for another tour to promote Dear Silence Thieves internationally. He impressed Norway when he headlined the FJORD BLUES FESTIVAL with words such as 'magic' and 'religious experience' used to describe his performance.
In recording Dear Silence Thieves, Dan was frugal when it came to dishing out meaty middle eights. "Solos on the album are fewer and farther between than on my earlier releases," he declares. "Solos are more of a gift, but when I play these tracks live, my band and I get to lose ourselves in the layers of each new song, and they unravel beautifully and differently every time."
Playing as a three-piece, Dan's tight trio make for impressive listening and watching live. "After a week of fine-tuning the new songs, and a full month in studio with Theo Crous, Dear Silence Thieves is the confident and concise statement that will be heard in Europe, across South Africa, and all the way back to the genesis of Patlansky's passion, the blues. And, as with its maker, Dear Silence Thieves bursts with a bold personality.
Dan will be going on a UK tour in Novermber 2015 with the legendary Joe Satriani to further promote Dear Silence Thieves.
"Dear Silence Thieves is his 7th album and finds him locked in with experienced producer Theo Crous who gives the project an extra pair of ears. The result is a slickly produced, song driven, blues rock album with occasionally funky influences and a melodic pop heart." – Get Ready to Rock
---